As I write this, Atletico is slumping to a 1–0 defeat to Bayer Leverkusen in the Champions League. Bayer currently sits at 6th in the Bundesliga, whereas Sevilla's return leg opponent in the Europa League leads the second pack in 3rd place. Sevilla, I'm sure you'll recall, won the first leg 1–0 last week. I'm just saying. I'm just saying.
Anyway, winning was great, and not conceding an away goal possibly even better. But it wasn't as if Sevilla comfortably cruised to the result. You might even argue they deserved less than the win they got. So I'm mentally preparing myself for a struggle tomorrow. An away goal should, I would think, be enough to win the tie, but again, Monchengladbach is hardly a pushover, and Sevilla definitely had a lot on their hands last week.
In Sevilla team news, the team list for the game doesn't really have any surprises other than perhaps the inclusion of even our injured players. This actually decent article from Marca points out that Parejo and Carriço will be available for the match, a combination that has won 70% of the points they've contested as starters:
Pero, salvo sorpresa, el técnico vasco recuperará para los dos próximos partidos el centro de la defensa con el que ha obtenido sus mejores resultados esta temporada. El regreso de Krychowiak tras su sanción, que permitirá al portugués Carriço situarse de nuevo en su posición natural, unido a la recuperación de Pareja, restablecido tras unos días de merecido descanso, permitirán a Unai Emery alinear la pareja de centrales con la que suma casi el 70% de los puntos que ha logrado en Liga.
If you're in the mood for good omens (and I am), that's probably as good as they'll come. I'll take it!
In probably even more important news, our own Chris Lail continued our blog's inexorable climb to relevance and influence with Sevilla FC: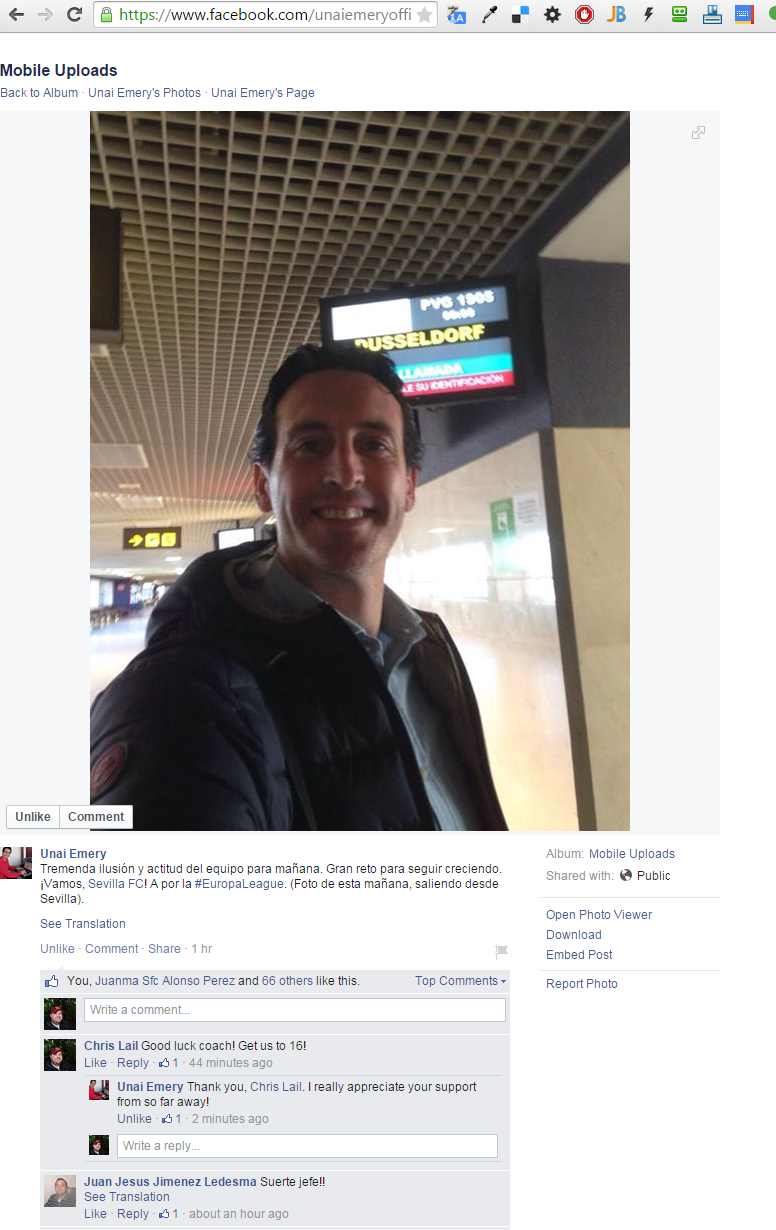 Hola Sr. Emery. If you're reading this, be sure to check in on our blog's simple and proven formula for success. It's easy enough to follow, and we won't even demand credit when you use it to sneak into Champion's League. Also, ¡a ganar mañana en Alemania!
VAMOS!